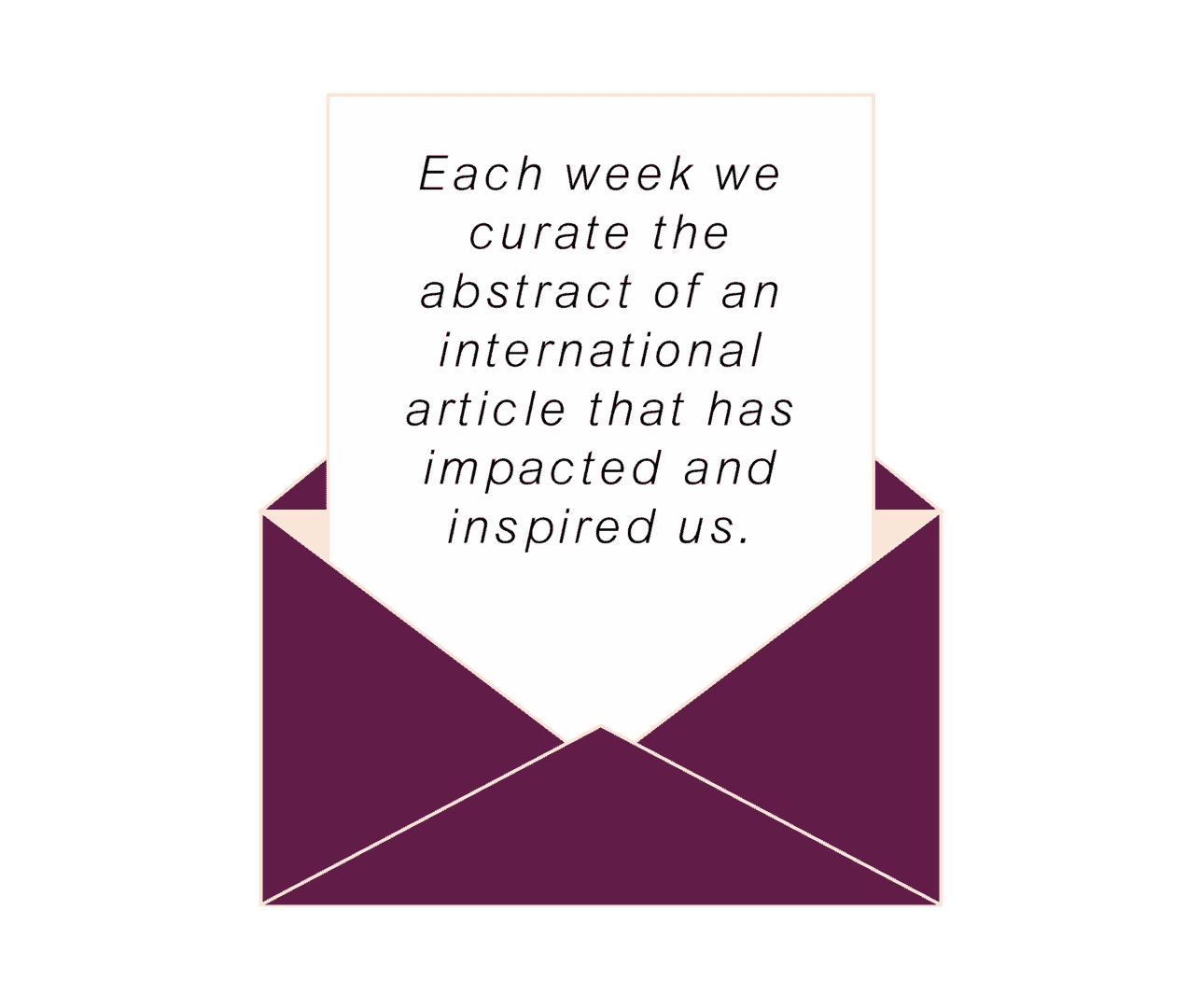 29.09.2023 – 3 Ways to Reenergize Your Team When Morale Is Low
22.09.2023 – New leadership for a new era of thriving organizations
15.09.2023 – Am I Anxious or Just Stressed?
08.09.2023 – Do Consumers See Your Business as a Force for Good?
01.09.2023 – It's not just conversation—Gen Z is missing some essential nonverbal skills, too
25.08.2023 – Make Good Decisions Faster: Move from Consensus to Consent
18.08.2023 – 3 Human Super Talents AI Will Not Replace
11.08.2023 – How the Best Teams Keep Good Ideas Alive
04.08.2023 – Leaders with courage listen, rather than roar
28.07.2023 – Don't underestimate the outsized impact of short-term goals
21.07.2023 – When Your Boss Gives You Bad Feedback, Badly
14.07.2023 – Take 5: How Fear Influences Our Decisions
07.07.2023 – Don't Eliminate Your Middle Managers
30.06.2023 – Why Are Younger Workers Unhappy?
23.06.2023 – Perfectionists, these are the costs of always wanting to do things better
16.06.2023 – With Burnout on the Rise, What Can Companies Do About It?
09.06.2023 – Rethinking Change: Moving from Management to Agility
02.06.2023 – The Increasing Importance of a Best Friend at Work
26.05.2023 – Breaking the Cycle of Self-Sabotage: How to Overcome the "Golden Larva Syndrome"
19.05.2023 – Building a better brain through music, dance and poetry
17.05.2023 – PRIMATE READS: "WHEN THEY WIN, YOU WIN. Being a great manager is simpler than you think".
12.05.2023 – What HBO's "Succession" Can Teach Us About Negotiating
05.05.2023 – How Storytelling Makes You a Better Leader
28.04.2023 – The Power of Framing in Creating Psychological Safety
21.04.2023 – Job, Career, or Purpose?
14.04.2023 – Stop Softening Tough Feedback
07.04.2023 – Why Microsoft Measures Employee Thriving, Not Engagement
Older articles
2023
31.03.2023 – The puzzling gap between how old you are and how old you think you are
24.03.2023 – From Fixed Mindset to Growth Mindset
17.03.2023 – Beware a Culture of Busyness
15.03.2023 – PRIMATE'S READING: DECISIONS OVER DECIMALS. Striking the Balance between Intuition and Information – read the complete review
10.03.2023 – Don't Underestimate the Power of a Walk
03.03.2023 – Rituals at Work: Teams That Play Together Stay Together
24.02.2023 – How to Work with Someone Who Creates Unnecessary Conflict
17.02.2023 – Which Workers Suffer Most When New Technology Arrives?
15.02.2023 – PRIMATE'S READING: The Revolutionary Approach to Leading an Intergenerational Workforce – read the complete review
10.02.2023 – The Secret Power of Prototyping
03.02.2023 – What Can World Cup Penalty Shootouts Teach You About Performing Well Under Extreme Pressure?
27.01.2023 – Creating Connectivity In a Distributed Workforce
20.01.2023 – Why are some leaders afraid of psychological safety?
13.01.2023 – The Limits of Neuroscience in Business
06.01.2023 – Bosses say remote work kills culture. These companies disagree.
2022
30.12.2022 – Leadership Lessons — Top Gun : Maverick
23.12.2022 – 8 Common Career Limiting Mistakes to Avoid at All Costs
16.12.2022 – Agile Doesn't Work Without Psychological Safety
09.12.2022 – Don't Let Hierarchy Stifle Innovation
02.12.2022 – 5 questions about motivation with Daniel Pink
25.11.2022 – You Will Never Be Ready
18.11.2022 – Why Leaders Can't Ignore the Human Energy Crisis
11.11.2022 – What Machines Can't Do (Yet) in Real Work Settings
04.11.2022 – Solving the "Purpose Gap" between Executives and Workers
28.10.2022 – Broaden Your Influence by Adapting How You Listen
21.10.2022 – Mental Health Has Become a Business Imperative
14.10.2022 – The Real Magic of Rituals
07.10.2022 – Employer Branding Is the New Marketing Imperative
30.09.2022 – Why a company is not a family — and how companies can bond with their employees instead
23.09.2022 – Teaming is hard because you're probably not really on a team
16.09.2022 – Command and control management styles literally can kill people
09.09.2022 – How to Give and Receive Compliments at Work
02.09.2022 – The Future Workforce: How to Attract Gen Z Talent
26.08.2022 – The End of Bureaucracy
19.08.2022 – 9 neuroplasticity exercises to boost productivity
12.08.2022 – The Business Case for Curiosity
05.08.2022 – The Five Magic Words I Value Most At Work
29.07.2022 – 5 ways meeting-free days transform the workplace experience
29.07.2022 – The Surprising Impact of Meeting-Free Days
22.07.2022 – What Makes a Company "Future Ready"?
15.07.2022 – Probing reality and myth in the metaverse
08.07.2022 – How to ask for help
02.07.2022 – Fear factor: Overcoming human barriers to innovation
24.06.2022 – 11 Ways to Improve Your Retrospectives
17.06.2022 – The Future of Jobs in the Era of AI
10.06.2022 – Effective Leaders Decide About Deciding
03.06.2022 – Airbnb's five rules for work-from-anywhere. 'The Office As We Know It Is Over,' Says Airbnb CEO Brian Chesky
27.05.2022 – How to Manage Your Anger at Work
20.05.2022 – 13 Signs That Someone Is About to Quit, According to Research
13.05.2022 – Why Your Brain Needs Boundaries
06.05.2022 – Why Community-Led is the Future of Innovation
29.04.2022 – How Do Customers React When Their Requests Are Evaluated by Algorithms?
22.04.2022 – 7 strategies to help you live with uncertainty
15.04.2022 – Why People Follow Certain Leaders: Lessons From Ukraine's President Zelensky
08.04.2022 – 10 Leadership Lessons I Have Learned From Conducting an Orchestra
01.04.2022 – Should Employees Be Allowed to Choose What They Want to Do?
25.03.2022 – Building the Cognitive Budget for Your Most Effective Mind
18.03.2022 – Stop thinking of your kids' gaming time as wasted time; here's why
11.03.2022 – Why It's So Hard to Keep and Recruit Employees Right Now
04.03.2022 – The Future of Customer Service Is Fast, Lean, and Agile
25.02.2022 – The Principles of Learning from Prototypes: 5 Lessons
18.02.2022 – The metaverse will shape the future of work. Here's how
11.02.2022 – How to Sell Your Ideas up the Chain of Command
04.02.2022 – The Power of Capitalism
28.01.2022 – Why Women Don't Negotiate Their Job Offers
21.01.2022 – The Future of Work is Not Corporate — It's DAOs and Crypto Networks
14.01.2022 – 5 Tactics That Help You Write Better Emails and Improve Communication with Your Team
07.01-2022 – Discover Your Most Productive Hours With The Biological Prime Time Method
2021
31.12.2021 – How Trees And Forests Can Teach Us Valuable Lessons In Teamwork
24.12.2021 – The Breath Is a Back Door to Your Vagus Nerve
17.12.2021 – 5 Reasons Athletes Develop Performance Anxiety
15.12.2021 – PRIMATE'S READING: The Art of Impossible: A Peak Performance Primer – read the complete review
10.12.2021 – People's words and actions can actually shape your brain — a neuroscientist explains how
03.12.2021 – Forget Flexibility. Your Employees Want Autonomy.
26.11.2021 – Shattering the status quo: A conversation with Haier's Zhang Ruimin
19.11.2021 – 4 Ways To Manage Your Energy And Have A Balanced, Productive Workday
17.11.2021 – PRIMATE'S READING: Leading Without Authority. How the New Power of Co-Elevation Can Break Down Silos, Transform Teams, and Reinvent Collaboration – read the complete review
11.11.2021 – Organisational culture: It's time to take action
05.11.2021 – 8 Phrases That Help Us Communicate More Effectively
29.10.2021 – How to help your employees own your strategy
22.10.2021 – Creating a Culture Where Employees Speak Up
15.10.2021 – Gain Competitive Advantage by Transcending the Front-Line Paradox
13.10.2021 – PRIMATE'S READING: The Aristocracy of Talent. How Meritocracy Made the Modern World – read the complete review
08.10.2021 – Admitting Mistakes
01.10.2021 – Powerful Lessons People Often Learn Too Late in Life
24.09.2021 – Why Managers Fear a Remote-Work Future
17.09.2021 – Six lessons from the Museum of Failure
15.09.2021 – PRIMATE'S READING: Numbers don't lie: Numbers Don't Lie. 71 Things You Need to Know About the World – read the complete review
10.09.2021 – Welcome to the YOLO Economy
03.09.2021 – 5 ways organizations can encourage employees to fight back against toxic leadership
27.08.2021 – Research: Why Managers Ignore Employees' Ideas
20.08.2021 – Does Your Company Make You a Better Person?
13.08.2021 – Aging is inevitable, so why not do it joyfully? Here's how
06.08.2021 – Long working hours increasing deaths from heart disease and stroke: WHO, ILO
30.07.2021 – How To Use FBI Negotiation Tactics on Your Teenagers
23.07.2021 – The 3 things that keep people feeling motivated at work
21.07.2021 – PRIMATE'S READING: Your brain at work – read the complete review
16.07.2021 – 5 Behavioral Biases That Trip Up Remote Managers
09.07.2021 – Research Proves Your Brain Needs Breaks
02.07.2021 – It's Time to Free the Middle Manager
25.06.2021 – Apple employees push back against returning to the office in internal letter
18.06.2021 – The Cost of Interruptions
16.06.2021 – PRIMATE'S READING: Noise: A Flaw in Human Judgment – read the complete review
11.06.2021 – Work In A Flow State For 2+ Hours Per Day Using The '3C Method'
04.06.2021 -What Pirates Have to Teach Us About Leadership
28.05.2021 – Help your employees find purpose—or watch them leave
21.05.2021 – Changing Your Organization Through Experimentation
14.05.2021 – The executive's guide to better listening
07.05.2021 – Neurology of Meetings. How brain chemistry influences meeting culture
30.04.2021 – Build A Culture That Fuels Courage, Not Fear
23.04.2021 – 10 Super Annoying Things Bosses Do
16.04.2021 – The Truth About Multitasking — And What to Do Instead
14.04.2021 – PRIMATE'S READING: VUCA Tools for a VUCA World. Developing Leaders and Teams for Sustainable Results – read the complete review
09.04.2021 – How Apple Is Organized for Innovation
02.04.2021 – How to Keep Your Cool in High-Stress Situations
26.03.2021 – How wellbeing improves performance: An interview with Annastiina Hintsa
19.03.2021 – Introducing Working From Anywhere
17.03.2021 – PRIMATE'S READING: LOVING YOUR LIFE. When I loved myself more wondrously and amazingly – read the complete review
12.03.2021 – How to Work With Someone You Can't Stand
05.03.2021 – 7 Zoom mistakes you might still be making — and how to raise your video skills
26.02.2021 – Today's Leaders Need Vulnerability, Not Bravado
19.02.2021 – To Succeed in a Negotiation, Help Your Counterpart Save Face
17.03.2021 – PRIMATE'S READING: THE LONG-DISTANCE LEADER. Rules for remarkable remote leadership – read the complete review
12.02.2021 – Stop thinking of your kids' gaming time as wasted time; here's why
05.02.2021 – How to Stop the Negative Chatter in Your Head
29.01.2021 – How to boost your team's success with shared mental models
22.01.2021 – Is it more important to be ethical than profitable?
15.01.2021 – How to Work for a Boss Who Has Unrealistic Expectations
13.01.2021 – PRIMATE'S READING: TEAM OF TEAMS. New rules of engagement for a complex world – read the complete review
08.01.2021 – Leaders Focus Too Much on Changing Policies, and Not Enough on Changing Minds
02.01.2021 – The Neuroscience of Trust
2020
26.12.2020 – Research: Type Less, Talk More
18.12.2020 – Agile 2.0: Uniting Leaders to Craft the Organisations of The Future
11.12.2020 – The five keys to a successful Google team
04.12.2020 – Guy Kawasaki's 10–20–30 Rule For Perfect Presentations
27.11.2020 – Why do so many incompetent men become leaders? And what can we do about it?
20.11.2020 – Using a "Safe Space" to Develop Diversity
18.11.2020 – PRIMATE'S READING: DARE TO LEAD. Brave work. Tough conversations. Whole hearts – read the complete review
13.11.2020 -The weekly CEO e-mail
06.11.2020 – Amy Edmondson on the power of psychological safety in distributed work
30.10.2020 – 5 Types of People Who Waste Your Time at Work
23.10.2020 – Radical Candor — The Surprising Secret to Being a Good Boss
16.10.2020 – To Solve Big Problems, Look for Small Wins
14.10.2020 – PRIMATE'S READING: Humanocracy –read the complete review
09.10.2020 – How to Win the Emotional Battle of Procrastination
02.10.2020 – Performance Management
25.09.2020 – How to Befriend Your Inner Critic
18.09.2020 – Leadership in an agile world (8): delegation poker
16.09.2020 – PRIMATE'S READING: The fearless organization –read the complete review
11.09.2020 – True Leaders Believe Dissent Is an Obligation
04.09.2020 – How to Ask for the Things You Need
28.08.2020 – Millennials Want Mentors, Not Managers
21.08.2020 – Is it time to retire the title of manager?
14.08.2020 – Laziness Does Not Exist
07.08.2020 – Proof That Positive Work Cultures Are More Productive
31.07.2020 – What Makes Some People More Resilient Than Others
24.07.2020 – How Meditation Works in Your Brain
17.07.2020 – It is cheaper to fix a mistake before you make it
10.07.2020 – How to Tell Your Boss You're Burned Out
03.07.2020 – How fearless organizations succeed
26.06.2020 – Jeff Bezos Banned PowerPoint in Meetings. His Replacement Is Brilliant
19.06.2020 – How Humble Leadership Really Works
17.06.2020 – PRIMATE'S READING: Mindful leadership. Effective tools to help you focus and succeed – read the complete review
12.06.2020 – How to increase your mistake tollerance
05.06.2020 – COVID-19: 4 ways coronavirus could change employee expectations
29.05.2020 – How to Combat Zoom Fatigue
22.05.2020 – 11 Differences Between Busy People And Productive People
15.05.2020 – Demonstrating corporate purpose in the time of coronavirus
13.05.2020 – PRIMATE'S READING: Testing business ideas – read the complete review
08.05.2020 – 2020 Is the Decade of Culture-First Organizations
01.05.2020 – The leadership model is broken
24.04.2020 – Keep your people learning when you go virtual
17.04.2020 – Yuval Noah Harari: the world after coronavirus
15.04.2020 – PRIMATE'S READING: Powerful. Building a Culture of Freedom and Responsibility –read the complete review
10.04.2020 – Decision making in uncertain times
03.04.2020 – Is the COVID-19 outbreak a black swan or the new normal?
27.03.2020 – Making distance disappear
20.03.2020 – Leading through COVID-19
13.03.2020 – How remote workers make work friends
11.03.2020 – PRIMATE'S READING: An everyone culture. Becoming a deliberately developmental organization – read the complete review
06.03.2020 – I've spent my career studying bad habits. Here's what I've learned about breaking them
28.02.2020 – 3 big differences between a manager and a leader
21.02.2020 – How you can use conflict to build a better team
19.02.2020 – PRIMATE'S READING: Corporate Rebels. Make work more fun – read the complete review
04.02.2020 – How to become less-hierarchical within a hierarchical structure
07.02.2020 – Your body has a budget. Overdrafting makes you sick
31.01.2020 – 7 reasons why smart, hardworking people can't find success
29.01.2020 – PRIMATE'S READING: The purpose revolution. How leaders create engagement and competitive advantage in an age of social good – read the complete review
24.01.2020 – How management is being transformed: Drucker forum insights
17.01.2020 – How to run a good one-on-one meeting
10.01.2020 –10 things we learned from "It doesn't have to be crazy at work"
03.01.2020 – How to handle a toxic manager
2019
20.12.2019 – A big new study finds compelling evidence that happy workers are more productive
13.12.2019 – Why small teams win and bigger ones fail
06.12.2019 – The most important innovation metric you need
29.11.2019 – Why anxiety is the number one productivity killer
22.11.2019 – The Netflix decision making model is why they're so successful
15.11.2019 – Why budgeting kills agile and innovation
08.11.2019 – Are you a micromanager? 4 bad habits and how to improve
01.11.2019 – The futures of work: fixed vs fluid
25.10.2019 – The Silent Meeting Manifesto v1: making meeting suck a little less
18.10.2019 – Using Neuroscience to make feedback work and feel better
11.10.2019 –  4 strategies to reduce interruptions and distractions at work
04.10.2019 – Why agile's future is bright
27.09.2019 – What evolutionary purpose really means
20.09.2019 – 7 things you can learn from Holacracy (Even if you don't practice it)
13.09.2019 – Why you should create a "Shadow Board" of younger employees
06.09.2019 – Reinventing organizational learning – Towards transformative learning
29.08.2019 – Business Roundtable redefines the purpose of a corporation to promote '"An economy that serves all Americans"
26.07.2019 – Life changing lessons learned from Charles Darwin, Thomas Edison, and Max McKeown
19.07.2019 – The return of the manager?
12.07.2019 – Spotify: cherishing a start-up culture during exponential growth
05.07.2019 – How to orchestrate change from the bottom up
28.06.2019 – Want to think like Satya Nadella? Follow 3 simple rules
21.06.2019 – Neuroscience of mindfulness: what exactly happens to your brain when you meditate
14.06.2019 – Why the world needs more rebels
07.06.2019 – Leadership lessons from Game of Thrones
31.05.2019 – The top 10 rebuttals to: "Agile is great. But it won't work here"
24.05.2019 – Why every meeting should be optional
17.05.2019 – How to deliver constructive feedback in difficult situations
10.05.2019 – Is the era of management over?
03.05.2019 – Gary Hamel's powerful speech: highlight of the drucker forum?
26.04.2019 – Transforming organisations, changing the nature of work
19.04.2019 – How do you turn around the culture of a 130.000-person company? Ask Satya Nadella
12.04.2019 – Next-generation organizations – 11 beliefs of people within